At first, masses had access to the internet using their wired computers occupying a finite space at home.  Then came in the wireless technology and notebooks, that simplified the browsing experience to an "anywhere anytime" activity.  The technology slowly spread into the mobile phones (especially iPhone), that brought a new dimension to accessing information on the Internet.
Here comes CrunchPad, whose sole purpose of existence is to browse the Internet. Powered by Linux and Webkit, this device directly boots up into the browser.  Right now, the availability of onscreen keyboard is not confirmed but it is crucial to complete the internet experience and subsequent success of the product.
CrunchPad is being sponsored internally by Michael Arrington and the TechCrunch group.  The pictures of the prototype has been launched and it looks pretty cool.  Here is what NYTimes has to say about the CrunchPad.
A few pictures of the prototype that looks pretty impressive:
Prototype suggests that both portrait and a landscape mode are supported.  Also there is a hint about attaching an external keyboard to the device.  But I strongly believe an on-screen keyboard would make things better.  It is very sleek and could be used anywhere at your comfort.
Why would CrunchPad be a success?
It is highly focused into a market segment – the Internet.  Such products definitely find their way!
Clean and simple
With Cloud computing and Web 2.0+, you can run an entire computer within a browser.  So this makes a browser based device, self sufficient!
Those who use computers spend more time on Internet than on anything else.  So this is again a favorable point!
A sub-$250 price tag definitely sounds lucrative!
But can it compete against the Netbooks which are relatively priced?  Can Netbooks hold the advantage with local computing resources in addition to the browsing capabilities?
These are questions to be answered, once when we get the first feel of the CrunchPad.  But for now, it seems to be heading for a success!

Much awaited Mobile World Congress (MWC) 2009, is happening in Barcelona from 16-19 February. 
MWC is sure to attract technology and business professionals, from various areas like mobile operators, equipment vendors and Internet companies.  With about 50,000 attendees, one can expect them to showcase the latest and greatest in the mobile space.
You can follow Thoughts Unlimited during this period for interesting and useful updates from MWC.
Subscribe to Thoughts Unlimited today!!  You can also follow the updates on Twitter at @thotsunlimited

Michael Arrington, founder of the popular technology blog TechCrunch, will be taking leave of absence for an unplanned period.  The reason he cites, varies from physical and verbal abuse, including a threat to his life. 
As per his blog post, Arrington is tired on being targeted by startups who aren't noticed by TechCrunch or fellow professional bloggers envy of his work. 
…But I can't say my job is much fun any more. Startups that don't get the coverage they want and competing journalists and bloggers tend to accuse us of the most ridiculous things. It hasn't been worth our time to respond to these accusations; I always assumed that our work and integrity would speak for itself…
He also reveals a serious death threat to himself, his immediate family and co-workers, last summer.  TechCrunch went for police security during this period and was spending around $2000 every day on it. 
…The threats were, in the opinion of security experts we consulted, serious. The individual has a felony record and owns a gun. Police in three states became involved and we hired a personal security team to protect me, my family and TechCrunch employees.

At over $2,000 a day we couldn't keep paying for security indefinitely….
As a result of all these, Arrington will be taking some time out from TechCrunch this February, seriously thinking on his future plans. 
I've decided the right thing to do is take some time off and get a better perspective on what I'm spending my life doing. I'll be taking most of February off from writing, and decide what the best future for me is while sitting on a beach somewhere far away from my iPhone and laptop.,,,

…We write about technology and entrepreneurship. These things are important, but not so important that we should fear for our safety or the safety of our families…
What is to be seen, is the effect of his absence on TechCrunch.  Though TechCrunch doesn't lack professionals like Erick Schonfeld and Mark Hendrickson, Arrington has been the mainstay.  Arrington was known for breaking interesting and controversial technology news, before most of TechCrunch's rival sites.  We will have to wait and see if TechCrunch can continue this legacy and vigor, in his absence.

Travel itinerary and trip planning service, TripIt announced the availability of their API (Application Programming Interface) on 26 January 2009.  This opens up opportunities for software developers to create travel applications using TripIt API. 
TripIt is an open platform that supports bookings from over 300 travel sites and also works with partners like Microsoft and Sabre.   Developers can access the API at http://www.tripit.com/developer.
"We've had interest from the developer community ever since we launched TripIt." commented Scott Hintz, co-founder and VP Business Development at TripIt. "So we're excited to see the great apps already using the API and can't wait to see what other developers create."
There are a few applications, that are already being built on the TripIt API.
Expens'd – Online expense application that gather details from trip itineraries to simplify Expense reporting
FlightTrack – iPhone application to track Flight schedules
Where I've Been – Travel social networking application, now have access to TripIt itineraries
Developers can use the first version of API to read, add or delete trips from TripIt accounts.  At a preliminary look, it appears that OAuth authentication scheme will be used for TripIt Users to grant access to their data.  I will be writing another post soon on the details of the API.
This is promising and we can see some exciting travel applications, in the near future.
To keep track of further developments on Mobile and Travel Space, Subscribe to Thoughts Unlimited today!
You have created a Twitter account and started following a few.  So now what?  In this post, I will share with you a few tips on getting started with Twitter, so that can you can make full use of this powerful tool.
What is Twitter?
Twitter is a micro-blogging tool.  It is unlike a instant messenger, where the information exchange is synchronous.  Twitter lets you post messages and it is broadcasted to a wider audience, who read them at their own pace.  Twitter is also a great platform for marketing your business. 
Chris Brogan in this post, shares his ideas on how Twitter can be used for Business.  This should give you a head start on the power of twitter.
How to find people and follow?
Next you must start following people, who publish quality tweets.  People you follow, depens on what you need from Twitter.  For example, if you are in Twitter to hook up with your friends, then you might wish to search and follow them.  Otherwise, if you are to hook up with great minds and their ideas, then the protocol might be different.
Twitter Power 150 jots down an excellent list of top 150 Twitter users with advertising and marketing blogs.  I would strongly recommend you to follow most of them, depending on your interest areas.
Twitterholic.com, on the other hand, gives you the list of Twitter users, ranked on their number of followers.  This should again provide a starting point to follow powerful people.
Give your Twitter a Background
Background choices that come bundled with Twitter are pretty basic.  They don't give you options to customize them.  This is where, TwitBacks comes in to play.

Twitbacks lets you customize and brand your Twitter Account, by creating your very own Twitter background. 
For example, you can have a Twitter background that gives your details,profession and other relevant information that might be of interest to your followers.  Twitbacks is easy to start with and you can create the background in minutes.  Also, they help you configure it with the Twitter account.
Here is an example background to give you an idea: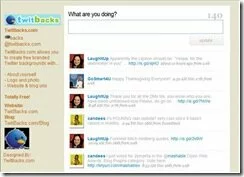 You can check some Power Twitters like @problogger and @IndianGuru on how they use customized backgrounds.
Feed your Blogs to Twitter
How nice it would be to let your Twitter followers to know that you have posted something in your blog?  TwitterFeed provides you just that.

Once your create an account with TwitterFeed, you can hook up your Twitter account with it.  Then, you can configure the RSS feeds of all your blogs with your TwitterFeed account and your posts are automatically tweeted, with a link to your blog post.  This can go a long way in increasing your Blog traffic.
Integrate your Blog and Twitter
I just showed you how to post your blog entries to Twitter, which is a primary integration point (IMO).  But there are few other ways to integrate your Blog and the Twitter account.
NETTUTS shows you 10 nice ways to link up your Blog and Twitter.  This should cover almost everything that you need to know.
What is Retweeting and Hashtags
Retweeting (normally referred as "RT" by professional tweeters) is taking a twitter post from someone and sending it to your followers.  It is a great way to add followers, as it pushes your @username into social graphs resulting in clicks back to your profile.
Here is how you normally retweet a message:
RT @originalsender: Message from Original Sender
(OR)
retweet @originalsender: Message from Original Sender
At any time, you can find your Retweet statistics at Retweetist.  Just type in the URL - http://retweetist.com/users/yourusername – on your browser address bar with your Twitter Username and you can see the statistics.
Hashtags are used to organize and share twitter messages with others.  It is very similar to the usage of tags, to organize photos and blog entries.  And, not just the Twitter users but virtually any internet user can receive the hashtagged message, thus making your Twitter messages reach outside twitter.
How to use hashtags?
1.  Follow the @hashtags Twitter user – It follows you automatically and this enables it to index your hashtags

2.  Create a hashtag by inserting "#" in front of your keyword.  For instance, if you are tweeting about Wordpress, you can use #wordpress to hash your tweet

3.  Twitter updates with valid hashtags are indexed at http://hashtags.org.  You can reach there, search for a hashtag and even subscribe to the RSS feed of a tag.  For example, all tweets with "wordpress" as a hashtag can be found at http://hashtags.org/tag/wordpress/ and the RSS feed will be http://hashtags.org/feeds/tag/wordpress/
Tweeting Tools
Web is not the only tool to post messages to Twitter.  There are a handful of tools to post messages to Twitter, ranging from desktop clients to iPhone apps.
Mashable gives you an elaborate list of Twitter tools, which your might wish to bookmark.
This is pretty much you need to know, on getting started with Twitter.  I am sure you will learn more useful tips, on becoming a Power Tweeter!!
If you found this post useful, consider sharing it using the "Share This" button at the bottom of this post.
For more such useful posts to be delivered ABSOLUTELY FREE, Subscribe to Thoughts Unlimited!
Also you can follow me on Twitter @thotsunlimited
It is official now! Windows 7 Beta download will be closing shortly in 3 phases.
January 27th - Users will get a warning that Windows 7 Beta download will start closing down shortly. Those who have not initiated the download and need Windows 7 Beta, must start on this date
February 10th - New downloads will be closed. Users who have already initiated the download can continue
February 12th - Download will be closed for all users. Any partial downloads cannot be continued after this date
But the Windows 7 Beta key will be available even after February 12th.
MSDN and TechNet subscribers will have access to Windows 7 Beta download, through the entire Beta period (till August 2009).
IBM and Sun into the Restructuring Act [Layoff News]
Software Services giant IBM is rumored to have silently laid off about 2,800 of its employees in North America.  Most of these employees appear to belong to IBM's software, sales and distribution departments.  IBM might layoff more employees at their facilities in Poughkeepsie and East Fishkill, N.Y., and Burlington, Vt., this week.  You can read the complete news here.
Sun, keeping its promise of laying off 6,000 employees earlier, has terminated the employment of about 1,300 folks. This restructuring will affect Sun's offices across the geography and touch people in various cadres, including the Executives. Sun expects to save about $700-800 million every year as a result of this. You can read the complete story here.
These moves reiterate that tougher days are still ahead!
Next time someone sends you a Youtube or Google video link on the Gmail Chat, you don't really have to open it in a New tab or a window.
Now you can just click on the Youtube or Google Video link from your chat window and it plays for you right there.
This is how the preview of the video looks on your chat window…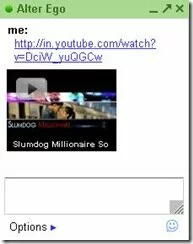 and this is how it plays, when you click on it.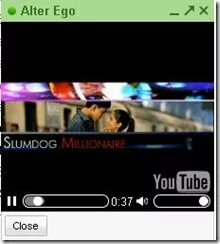 Note that this feature works currently, only with your Gmail chat and not the GTalk client application.
Share and enjoy your videos, instantaneously!
Via Official Gmail Blog
Have you ever tried to create a Web Questionnaire Form?  If yes, then you know the pain in creating, maintaining, sharing and gathering the results.  But Google Docs makes life easier through its Forms.  In this post, you can find out how to use Forms and create a Questionnaire is 5 minutes!
Create a Web Questionnaire Form
Go to http://docs.google.com and login with your Google username.  Select to Create a New Form.
A Form is a questionnaire page that can host a series of questions with various options to answer them.  Prepare questions beforehand and use the forms to design the questionnaire.
Give a Name for your form and also a Description for end users to identify the objective.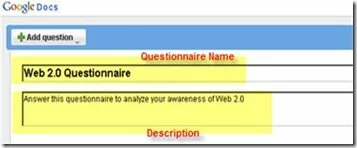 Then you can start adding questions using the Add Question button at the top.
While adding questions you can choose to make it mandatory and also choose from the following answer formats: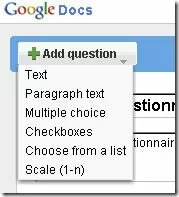 Text and Paragraph Text can be useful for subjective questions.  Multiple Choice provides radio buttons and Checkboxes provide multiple options to choose from.  Scale can be used to rate a question and List can be used to provide a range of options.
Following is an example on how a question with multiple choices can be created.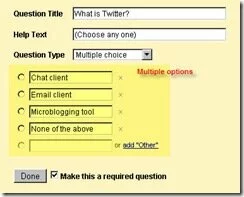 Here is how a sample Web Questionnaire form looks like.  You can easily rearrange questions by dragging and dropping them in appropriate locations.  Also Edit and Remove are highly intuitive.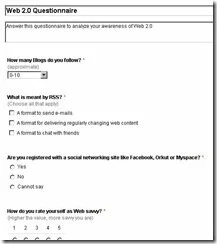 You can also Edit the Confirmation message that is displayed on form submit.  To do this, select More actions > Edit Confirmation on the right top corner.
Share the Questionnaire
Once created, you can share the questionnaire with users in one of the following ways.
Email the form by selecting Email this Form on the right top corner
Embed the form by selecting More actions > Embed and copying the HTML code on the required web page
Copy the URL of the Form from bottom of the page and sending it through Email or Chat


Following is how the Form looks when accessed using the URL.  Isn't it so neat and intuitive?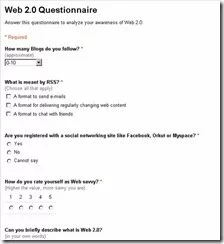 You can access the sample form I had created at this URL - http://spreadsheets.google.com/viewform?key=pUehfq3lTkylf0zRfaDT3QQ
Gather Results
Once users start answering the questions, you can view the responses either as a Summary with detailed report represented using Charts or in a Spreadsheet.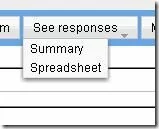 So you never have to manually gather responses and arrive at the results.
Thus, Google Docs Forms greatly simplifies Web Questionnaire creation, sharing and gathering results.  It is highly simple and very intuitive, even for non-geeks.
If you find this useful, consider sharing it with others using the Share This link below.
An Overactive RSS feed (What is RSS?) like that of TechCrunch, delivers about 10 items everyday.  Consider 20 such RSS subscriptions and your RSS Reader can be cluttered in no time.  I am going to show you, how to get a Daily Summary of all posts from a RSS subscription.
Feedstomper is a utility developed by Jeremy Raines, that takes in the details of your RSS feed and provides an alternate feed that aggregates entries from the source RSS feed into a Daily summary.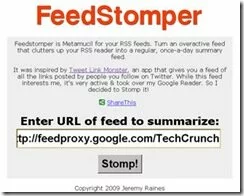 For instance, summarizing the RSS feed URL of TechCrunch, gives you the following alternate feed.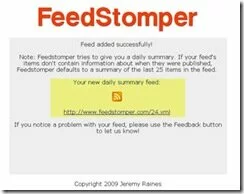 Now you can subscribe to this alternate feed in your RSS Reader and receive a Daily Summary of all posts from TechCrunch.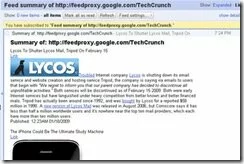 I suggest discretion in using this against all Overactive RSS feeds, as there can be a considerable time delay when the item reaches you.  This may not be suitable for News feeds, where the speed of item delivery matters.
Older »