If you are into web development and do a lot of funny stuff like me, then I would recommend to follow these 5 sites.  The mode of follow – Bookmarking, RSS, Email Feed – might differ from me, but the one thing I am sure of is the quality of information.
1. Smashing Magazine
---
Definitely tops the list with the depth and research that goes into each post.  If you are into web design/development and not heard of
Smashing Magazine
, then you are missing something!  Sometimes you find the posts are really long, but its definitely worth spending the time.
Link to: Smashing Magazine
2.  Woork
---
You don't find
Antonio Lupetti
, the author of Woork, posting very often.  But when he does, the quality is assured.  The topic of posts vary from tips, techniques, tools and everything around web development.  A must follow, to know about some interesting tools, which you might eventually start using!
Link to: Woork
3.  Nettuts
---
Think quality web development tutorials, think Nettuts.  I really mean it!  All the tutorials posts over there are of high quality.  I have a separate label in my
Google Bookmarks
just for Nettuts and the tutorials of my interest.  Just keep tuning into Nettuts often and you will understand what I mean.
Link to: Nettuts
4.  SpeckyBoy
---
This is one of my recent finds.  I found this blog through a guest post in Nettuts, got impressed and finally subscribed to it.  The overall quality of the content is good but it may take a while before confirming its usefulness.  But it looks definitely worth a try!
Link to: SpeckyBoy
5.  Ajaxian
---
Ajaxian is a simple and effective blog to keep you posted on the happenings in the AJAX world.  Sometimes the posts lack depth but nevertheless a good one to follow.  Let me know if you differ.
Link to: Ajaxian
This list is completely based on my experience with these sites or blogs.  There is absolutely nothing between the authors of these blogs and me, except that I am a reader of theirs.  Feel free to suggest more useful blogs and I will be more than pleased to add them to the list.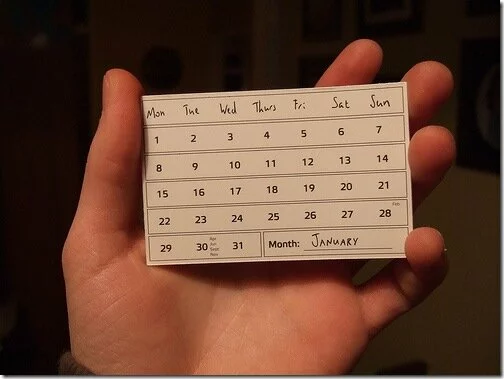 If you are a part time blogger like me, the biggest challenge you might face is the frequency and quality of posts, while managing with your full time job.  But maintaining a (strict) blogging schedule is good for your blog in the long run. I will show you why, in this post.  Read on!
Search engines start loving your blog
---
If you are aware of basic SEO techniques, then you will appreciate that the Search Engines take more interest in those blogs or websites which get frequently updated.  It is no good if you post once in every two days,
but the content is stale and uninteresting
. 
There is always a compromise between the frequency and quality
.  But once you optimize both, then more traffic from search engines start coming towards your blog!
Makes readers engage better with your blog
---
We are in the age of information explosion.  People are stuffed with information –
through blogs, web sites, Twitter, Facebook and so on
.  Also, people who read blogs through their RSS reader are very limited.  Most of them still bookmark sites and visit them at their convenience.
So maintaining a schedule lets your readers anticipate new entries and doesn't disappoint them when they visit your blog.
Creates a sense of commitment
---
Once you create a blogging schedule and start sticking to it, a sense of commitment is created within.  This is especially good if you are planning to get into professional blogging.  Also, commitment slowly transforms into passion which is definitely good for your blog.
People know that you are blogging
---
I sometimes visit niche blogs with quality content, but only disappointed to find that the latest post is about a month old.  Though I am tempted to browse through the blog and see what it has to offer me,
I don't feel the urge to Subscribe via RSS
.  So maintaining a blogging schedule and thus creating a posting frequency, tells even a new visitor that your blog is alive!
So if you are convinced that maintaining a blogging schedule is essential – then I recommend you to read the following posts from ProBlogger - one of my favorite blogging blogs – with regard to the topic in hand.
Develop an Editorial Calendar for Your Blog
Editorial Calendars and Professional Blogging
5 Ways to 'Systemize' your Blogging
How to Develop a Niche Blog Content Plan
What is your Weekend Blogging Strategy?
So what do you think about maintaining a blogging schedule?  Do drop in your thoughts as comments to this post.
Photo Credit: Joe Lanman
Twitter is slowly but surely becoming a "Google" of ideas.  A wealth of information and ideas get into Twitter everyday and grasping even 1% of those is a gargantuan task. To better optimize your time and get the maximum information out of Twitter – I suggest you the following 2 simple ways:
Use Twittorati
---

Twittorati is a latest entrant into the array of Twitter based services.  But it is not just all about Twitter! In their own words:
Twittorati tracks the tweets from the highest authority bloggers, starting with the entire Technorati Top 100 and soon including many more of the web's most influential voices.So if you start following Twittorati, then you can be rest assured to get the best of tweets from the best-in-class people.
I can already see some well known names like – Darren Rowse (ProBlogger), Michael Arrington (TechCrunch), Brian Clark (CopyBlogger), Pete Cashmore (Mashable) – whose tweets are featured in Twittorati.
Thus, Twittorati marks the consummation of Blogging and Tweeting.  In addition to reading the tweets, Twittorati helps you to:
Find the Top Links shared over Twitter
Find Top Blogs, based on their Technorati Authority
View Latest Photos shared around people's chat
You can also choose to follow Twittorati on Twitter - @twittoratinews
Follow the Twitter AllTop Site
---

Alltop is the brainchild of Guy Kawasaki and few more guys.  In their words - "Alltop is an online magazine rack of popular topics".
In the same lines, Alltop for Twitter, is a magazine rack of popular and latest information from the Twitter world.  It ranges from information about Twitter to information shared on Twitter.
Make sure you bookmark this site and visit everyday – to be rest assured that you don't miss anything important on Twitter.
I would strongly recommend these 2 resources, to get the best of twitter everyday.  Let me know if you find these useful.  Also, enlighten me with the other ways you may use to keep track of Twitter!
At first, masses had access to the internet using their wired computers occupying a finite space at home.  Then came in the wireless technology and notebooks, that simplified the browsing experience to an "anywhere anytime" activity.  The technology slowly spread into the mobile phones (especially iPhone), that brought a new dimension to accessing information on the Internet.
Here comes CrunchPad, whose sole purpose of existence is to browse the Internet. Powered by Linux and Webkit, this device directly boots up into the browser.  Right now, the availability of onscreen keyboard is not confirmed but it is crucial to complete the internet experience and subsequent success of the product.
CrunchPad is being sponsored internally by Michael Arrington and the TechCrunch group.  The pictures of the prototype has been launched and it looks pretty cool.  Here is what NYTimes has to say about the CrunchPad.
A few pictures of the prototype that looks pretty impressive:
Prototype suggests that both portrait and a landscape mode are supported.  Also there is a hint about attaching an external keyboard to the device.  But I strongly believe an on-screen keyboard would make things better.  It is very sleek and could be used anywhere at your comfort.
Why would CrunchPad be a success?
It is highly focused into a market segment – the Internet.  Such products definitely find their way!
Clean and simple
With Cloud computing and Web 2.0+, you can run an entire computer within a browser.  So this makes a browser based device, self sufficient!
Those who use computers spend more time on Internet than on anything else.  So this is again a favorable point!
A sub-$250 price tag definitely sounds lucrative!
But can it compete against the Netbooks which are relatively priced?  Can Netbooks hold the advantage with local computing resources in addition to the browsing capabilities?
These are questions to be answered, once when we get the first feel of the CrunchPad.  But for now, it seems to be heading for a success!
Woork – A must follow blog for Web developers
I came across the blog – Woork – by Antonio Lupetti a few months back.  It is one of the blogs that can catch your attention almost instantly.
Nowadays, when I am stuck on something during my web development projects – like choosing a font, implementing Captcha or some AJAX controls – I instantly look up to Woork.  There is a good 90% probability that you will find the relevant information there.
Just thought of sharing this info with you.  Let me know if it helps…