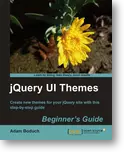 One of the greatest strengths of jQuery Framework is the ability to develop your own UI Themes and significantly control the look and feel of the application, beyond what the framework offers.  But, to make your own themes, you must completely understand the basics of UI Themes in jQuery.  jQuery UI Themes Beginner's Guide Book from Packt Publishing, helps you get started from scratch and excel with developing your own UI Themes.

Level of Audience
This book starts with a dedicated chapter to explain what Themes are and their importance to Web Design and Development.  Such is the level of content covered in this book – aimed at Beginners and Experts alike.  All you need is some basic understanding of HTML, CSS, Javascript and preferably jQuery, to use and benefit from this book.
Content Scope and Clarity
One can get a complete understanding of jQuery UI Themes and ThemeRoller (application to design custom themes) from the next few chapters, following the explanation on Themes.  This sets the context very strongly for a deeper understanding of UI Themes development for jQuery.
Subsequent chapters get on to the details of UI Theme development.  Each chapter has an elaborate coverage of the concepts involved, succinctly explained with suitable illustrations and examples. The author had made sure that all the necessary topics are covered, to make sure that you get everything you need to know about developing UI Themes for jQuery.
Also the concepts are very clearly explained for Web Developers and Designers alike.  I would give a very high rating for the clarity of content in this book, that will make learning a breeze.
Takeaways
As promised by the author, the key takeaway is the complete understanding of UI Theme development for jQuery.  Not just for Web Designers, this book can be very useful for Web Developers who likes to get their hands dirty with UI Themes development.
To purchase a copy of this book, you can visit the link here.  I would love to know your feedback and comments on this post/book, so feel free to talk.