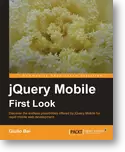 If you have been following my Blog for sometime, you'll notice that I cover quite details on jQuery Mobile – which I think is a big boost to the Mobile Web Development Community.  I plan to cover a lot more topics on jQuery Mobile both for Developer and the User Community, in the coming months through this Blog.
I have been recently contacted by Packt Publishing to know if I will be interested to review their New Book on jQuery Mobile – jQuery Mobile First Look.  I had a brief look at the Book's Objectives and Contents and turned very enthusiastic at the opportunity to review it.
So here I am – starting to spend time reading it and subsequently reviewing it.  You can keep watching this Blog to get a detailed review on this Book and how it can help You with jQuery Mobile.
Meanwhile, if you like to check out the Book details – you can follow this link.