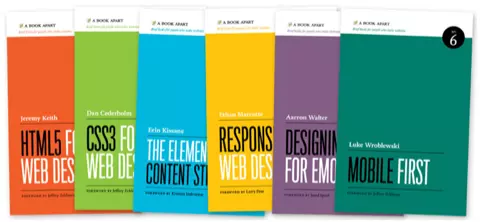 If you are a Web Designer or a Developer, then you certainly can't resist this Holiday offer from ABookApart.  You get a flat 30% discount on all the 6 publications currently available in their Store.  This applies to both the versions – eBook and Paperback.

Here are the books that you get in the bundle:
HTML5 for Web Designers
CSS3 for Web Designers
The Elements of Content Strategy
Responsive Web Design
Designing for Emotion
Mobile First
One distinct feature that separate these books from others – is the Brevity of the Content. Brevity doesn't mean just short but it also means "to the point".  You will certainly know the difference, when you start reading one of them.
Furthermore, eBook includes the PDF, ePub and MOBI formats – so you can read them on your Computer, Tablet, Kindle or any Portable device.
Click here to visit ABookApart and grab the 30% Discount!
Disclaimer: This is neither a Paid Promotional Post nor an Affiliate Post.  I grabbed a couple of books, really liked them and hence returning the favor.