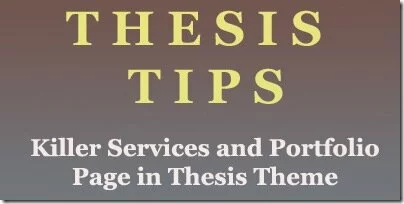 Been a while since I created a Thesis tutorial.  Here you go!  I will show you how to create a "killer" Services and Portfolio Page using Thesis Theme.  In the portfolio section, you can even add the snapshots of the sites you created, testimonials and more.  Read on how to do it!

1.  Create a Page that uses a Custom Template
To start with, let us create a Wordpress page that will use a Custom Template.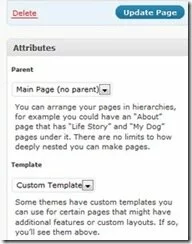 Go to Pages in your WP Dashboard and select Add New.
Create a Page with the name Services. You can choose any name for your page, but just remember it.
On the right side, under Template choose the value as Custom Template
Create the page.
Go back to the Pages section and hover your mouse pointer over the Page Link to find out the "page id". We will use this in our code.
Note: This page will use the full width layout and does not display sidebars.  Let me know if you need the sidebars too and I can help you
2.  Add styling to the custom.css file
Now add the following styling information into the custom.css file.  You can find this file under the following path – /custom/.  I have tried to use unique names for the services page – but if you find any of the identifiers are already used in your custom.css, feel free to replace them.

/* Services Page Styling */
.custom #content_box { background: transparent; }

 .custom #content { width: 100%; }

.custom .headline_area { margin-bottom:1em; }

.custom #content_box .headline_area h1 { color:#310D07; font-size:30px; font-weight:normal; letter-spacing:-1px; line-height:36px; margin-top:16px; border-bottom:1px dotted #310D07; }

.services_row { margin:0 -10px; overflow:hidden; width:900px; }

.services_column { display:inline; float:left; margin:0 10px; overflow:hidden; }

.services_grid_small { width:275px; }

.services_grid_medium { width:400px; }

.services_grid_small h3 { color:#310D07; font-size:24px; font-weight:normal; line-height:24px; margin:16px 0 12px; }

.services_grid_medium h3 { color:#310D07; font-size:24px; font-weight:normal; line-height:24px; margin:16px 0 12px; }

.services_column ul { font-size:16px; list-style-image:none; list-style-position:outside; list-style-type:disc; margin:0 0 16px 16px; }

.services_column li { padding-bottom:8px; }

.portfolio_column { display:inline; float:left; margin:0 10px; overflow:hidden; height:250px; }

.portfolio_column img { padding:10px; width:350px; height:230px; }

.quote li { list-style-type:none; }

.quote .caption { padding:10px; margin:10px; font-size:26px; font-style:italic; background:#F5F5F5 none repeat scroll 0 0; line-height:1.1em; }

.quote .client { font-style:italic; padding-bottom:5px; padding-right:20px; text-align:right; font-size:18px; }

3.  Add code to the custom_functions.php file
Then, add the following code the custom_functions.php file.  You can find this file under the following path – /custom/

/* SERVICES AND PORTFOLIO PAGE */

function services_page() {

// Repeat the array for the number of Portfolio you have
// image_name - Name of the Image copied under /custom/images in your Thesis theme
// portfolio_site_url - URL of the site you created
// portfolio_site_name - Name of the site you created
// testimonial - Testimonial given by your client
// client_name - Name of your client

$portfolio = array ( "portfolio_1"  => array ( "image_name" => "port_image1.jpg",
                                                "portfolio_site_url" => "http://supersite1.com",
                                                "portfolio_site_name" => "Super Site 1",
                                                "testimonial" => "Thoughts Unlimited has done a wonderful job for me.  I am definitely looking forward to work with him again.",
                                                "client_name" => "Brian Clark",
                                                "client_site_name" => "Copyblogger",
                                                "client_site_url" => "http://copyblogger.com"
                                     ),
"portfolio_2"  => array ( "image_name" => "port_image2.jpg",
                                                "portfolio_site_url" => "http://supersite2.com",
                                                "portfolio_site_name" => "Super Site 2",
                                                "testimonial" => "Thoughts Unlimited is amazing with his Application Developm[ent capabilities! He rocks!",
                                                "client_name" => "Darren Rowse",
"client_site_name" => "Problogger",
                                                "client_site_url" => "http://problogger.net"
                                     )
                 );

//Give your Page ID and Page Name here
if (is_page('press') || is_page('1023')) { ?>












Services














Web Design






Service 1


Service 2


Service 3


Service 4


Service 5












Web Development






Service 1


Service 2


Service 3


Service 4


Service 5












Thesis Skins






Service 1


Service 2


Service 3


Service 4


Service 5


















Portfolio






 $fields) {

?>























Contact









Create your contact form here...








              

Make sure to add the code at the bottom and there are no additional brackets that can cause compilation errors.


              

At the start of the function, I have used an array where you can specify the Portfolio details.  Make sure to suitably edit them to match your portfolio.  Edit the Page Name and Page Id in the function to match the one for the page you created.  Create Thumbnails of your Portfolio sites, resize them to 350×230, upload them to custom/images folder and set the file names the appropriate variables. Also, under the Services placeholder add your areas of expertise.


              

Also at the bottom, I have created a placeholder for the Contact form.  Create your own contact form here, for prospective clients to quickly contact you.


              

4.  You are done!


              

Were you expecting more steps?  No – you are done!  Now add the new page to the Navigation bar of your Thesis Theme (you can find this under the Appearance => Design Options from WP Dashboard).


              

Now, you can start enjoying your New Services and Portfolio page.  Here is a sample of how the Services and Portfolio section would appear in your blog.


              


              

Copyright

              This code is free to use for both personal and commercial purposes.  But, it is provided for under Creative Commons Attribution License.  Click on the link to know more about the usage terms.


              

You can download the ZIP file with the Code and Installation instructions here.   Copy the sample portfolio images file in the ZIP, to Theme Folder/custom/images folder.


              
              

Please share it using the links given below, so that more Thesis users can benefit from this tutorial.  Thanks in advance, for sharing!


              
              
               
              


              


              
              


                


                


              


              
              


                


                  

Powered by Thesis



                  

 Thesis is One of the best SEO friendly and Easily Customizable Wordpress themes around. It has a huge tribe following and lots of support. Check out:
                  


                    
Thesis Demo Site

                    
Thesis gallery showcase

                    
Testimonials

                    
Grab a copy for yourself

                    


                


                 
              


            


          
blog comments powered by