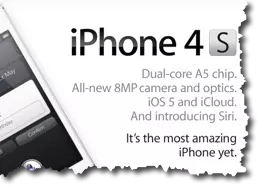 Here are the iPhone and iOS highlights from the Let's Talk iPhone Event conducted by Apple, in its Cupertino Campus.  For a change this keynote was headed by Tim Cook, who took over from Steve Jobs as the CEO of Apple.

iOS 5 News
iOS 5 to open up to public on October 12

iCloud also opens up on the same day

New Cards App let you send "traditional" snail mail greetings to US and around the world, from iOS for a fee
"Find My Friends" – Find your friends in the real world who has opted to share the location information with you
iMessage Service for messaging between iOS users (think BBM!)
New built-in Reminder App
Twitter Integration with iOS for Single Sign On and more
Take Photos  (not perfect yet…) and control iPod Music from your Lock Screen
Safari Updates – Reading list that syncs across iOS Devices, Full Tabbed Browsing for iPad
Wireless iOS Updates (a.k.a. PC Free)
iTunes Match – Sync your playlists and music to the cloud, Start Streaming – for $24.99/Year (only US, available End of October)
"Siri", the iPhone Assistant that helps to get things done by asking
You can use Siri for things like (as of now) – Setting up Reminders and Meetings, Sending Text, Asking for Information, Sending Emails, Finding Directions, Setting Alarms, Asking about Stocks…
By far Siri is the most impressive feature on iOS 5 (but still in Beta!)
New iPhone – The iPhone 4S
iPhone 4S succeeds iPhone 4 (No iPhone 5 yet…)
Apple will continue to sell iPhone 4, iPhone 3GS
Powered by Dual-Core A5 Chip – perceived to be 2X times faster than iPhone 4 (and 7X faster graphics)
Improved Battery Times
Advanced Wireless System to intelligently switch between "Transmit" and "Receive" antennas
Increased Data Speeds – HSDPA Speeds upto 14.4 Mbps
GSM/CDMA Dual Mode on the single device (favorite feature for Frequent Travelers)
Better Camera – 8 MP Sensor, Backside Illumination, Improved Face detection
AirPlay Mirroring – Get your iPhone Gaming on the Big Screen, all wireless
Other Updates
Price drops for iPod Nano Models – 8 GB at $149, 16 GB at $179
iPod Touch to get a makeover with iOS 5
iMessage also to be available for iPod Touch for Inter-iOS Communication
Price drops again for iPod Touch – 8 GB at $199, 32 GB at $299, 64 GB at $399
That's the summary of Let's Talk iPhone event by Apple at Cupertino, on 4 October 2011. What do you think? Did you miss iPhone 5? Are you getting an iPhone 4S? We would like to hear it from you!