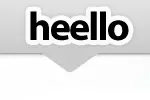 I am not sure if we need another Social Networking tool. Nevertheless, Noah Everett who is a co-founder with Twitter has launched Heello, which in most aspects look like a Simple Twitter Clone.
Tweets are Pings, Follows are Listens
Heello is exactly similar to Twitter, in that it allows you to Post information with a 140 character limit.  You can also choose to Add Photos and include Location information with your Posts.  Also, you can choose to follow other fellow Heello users and exchange messages (almost the same way you do with Twitter).
Heello gives you options to link your Twitter and Facebook accounts with your Heello account.  This will make it easier to post across these platforms, from within Heello.
Strength!
Major strength of the tool is its simplicity and clean interface.
But given most people are obsessed with Twitter, I serious doubt the adaption of Heello as another Social Media tool at least in the near future.  But I'll keep watching.
You can know more by visiting http://www.heello.com and Signing up for an account.  It does not require any invitation.  Also, you can follow me on Heello here!
Let me know what you think about this tool.  You find this interesting?