Do you love to update or access Twitter over the web?  Are you a Firefox moron?  Then, grab the Power Twitter add-on, as it wonderfully enhances your Web Twitter experience.
Install Power Twitter
Power Twitter is a Firefox add-on and it works with Firefox versions 1.5 – 3.5.  The current version as on 11 August 2009, is 1.32.
Installation is straight forward and you should see Power Twitter in action on restarting the browser and visiting http://twitter.com
Retweet from the Web
A major drawback with the Web version of Twitter is the lack of inherent Retweet (RT) support.  Power Twitter helps you to retweet messages right from the web.
View URL Previews, even the Shortened Ones!
You can view the Page Title and the favicon of the target pages, even if only the shortened URL is available in the status update.  This helps you decide, whether to follow the link to the page or not.
Hover over the Users and see their Latest Updates
You can hover over the "following" list on the Twitter home page and all their latest updates "pop" like magic.  This is really helpful if you don't wish to search for updates from people who matter.
Shorten URL when you post an update
Another good thing about Power Twitter is that, it lets you Shorten the URL when you post an update.  This is another feature missing in the Twitter Web.  Comes in handy, if you post a lot of URL to Twitter.

View Images and Videos right on Twitter
If the URL posted on Twitter resolves to an image or an Online Video, then you can view them right on the Twitter page.  This is my favorite feature of Power Twitter!  I have not checked how it works with Vimeo etc.  But it is good to go with YouTube!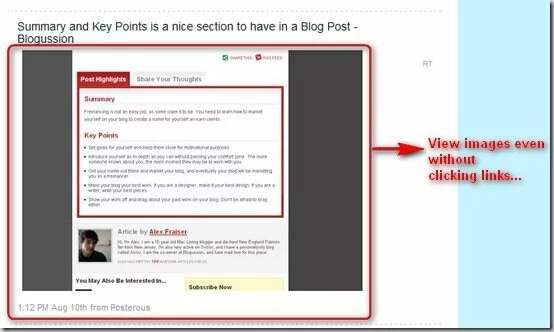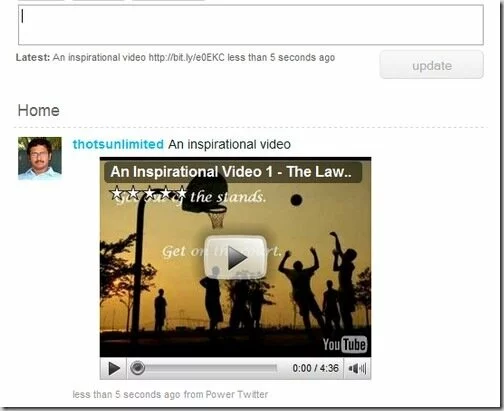 So, I hope most of these features appeal to you, if you are a Power Twitter user.  It's time to grab the add-on and let me know how you like it!
{ 1 comment }