On 21st of this month, Yahoo! announced the roll out of a new home page through their corporate blog (Yodel Anecdotal).  In the times when social networking means more than just connecting with people, let us briefly look how Yahoo! leverages Web 2.0 and tries to provide some interesting stuff through their new home page.
What's New
---
Logo changes color
The traditional "red" colored Yahoo! logo has given way to a more catchy looking purple one.  Also their favicon has been changed to match the new logo.
Featured News section
Earlier, the featured news section shows the top news with an image and to read the rest, user has to click a link, to be taken to a new page.  But in the improved version of the home page, up to 20 items can be scrolled using the arrow keys, without navigating away from the page.  This definitely helps the user experience – by providing more information on a given page.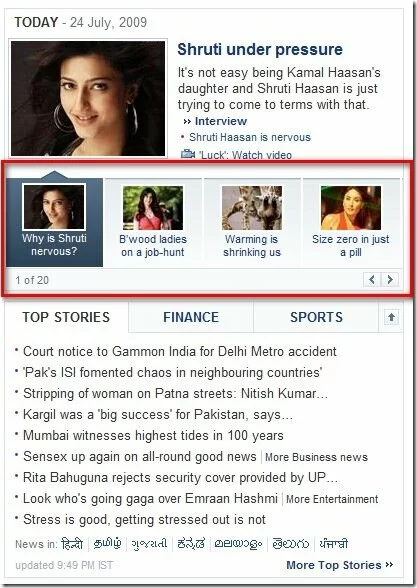 Change the Page color
Now users can choose a favorite color for their home page, as there is "no one size fits all" with web applications.  But this appears very naive – compare it with the themes available for the iGoogle home page!! Yahoo! has a lot to improve in this area.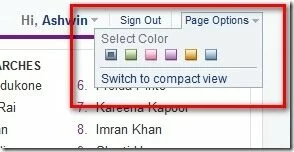 Favorite Applications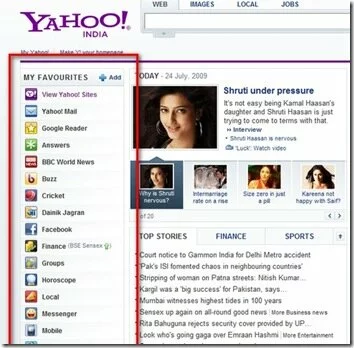 This is an interesting improvement from the previous version of the home page.  On the left side, you see the traditional applications that you find on a regular Yahoo! home page – Buzz, Cricket, News etc.
But the real improvement can be seen, once you hover over any of the applications listed here.  A layered screen pops up and displays the information.  For instance, this is what comes up when I hover over the Movies section.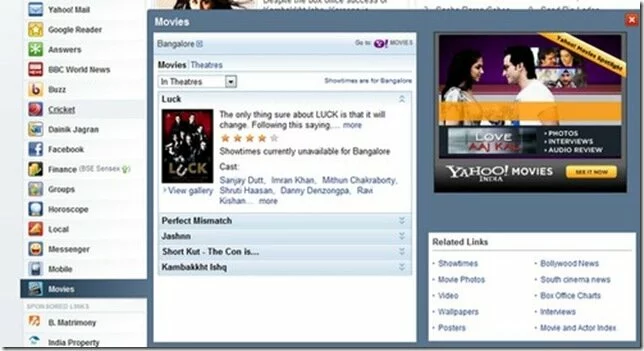 Also many other sites like – All Things Digital, eBay, NYT, HowStuffWorks, WSJ – can be added to the Favorites section.  Another interesting thing to note is the ability to add any of your favorite site, by just providing the URL.  But this did not work well with me, when I tried to add my blog!
Interesting to note is that the following are also supported as favorite applications – Facebook, Gmail, MySpace. I did not try out MySpace, but had NO success setting up Gmail and Facebook.  Even after I granted access to my Google Accounts, Yahoo! was still asking me to 'Sign In'.  Worse with Facebook, I was stuck on the Authorize screen. I am sure this feature is still in BETA (or ALPHA?) level!
You can check out this post on the Yahoo! official blog – http://ycorpblog.com/2009/07/21/welcome-home-to-the-new-yahoocom/ – to know more details about the new home page.
What Can Improve?
---
Speed
I have been using iGoogle for ages now and I know that it is slow!  But Yahoo!'s home page, with relatively light features is slow too.  Though my Internet connection is not very fast, but there is a good scope for improvement.
Applications are buggy
I was enthralled to find Gmail and Facebook listed among the applications but was only disappointed to find them not working.  I am sure Yahoo! is still working on their home page, but expecting a lot of improvement on this front.
Screen elements must be draggable and rearrangeable
I definitely expect my screen elements to be draggable, so I can keep my favorite ones at the top while moving the rest to somewhere I don't see often.  I definitely look forward to this from Yahoo!
Lack of Themes and Gadgets suck!
There is no full fledged theme support with Yahoo! home page.  Also, there are no ways (yet!) for custom applications to plug-in with the page.  These are some valuable lessons, that iGoogle can teach!
Will the new Yahoo! be my home page? Not Yet!
I would love to hear your thoughts on the new Yahoo! Home page.  You can either put them as comments to this post or ping me on Twitter @thotsunlimited
Powered by Thesis
Thesis is One of the best SEO friendly and Easily Customizable Wordpress themes around. It has a huge tribe following and lots of support.
Customization is simple - whether you are a Wordpress Newbie or a veteran.
Thesis Demo Site
Thesis gallery showcase
Testimonials
Grab a copy for yourself
Contact me for help with Thesis Consulting and Customization!