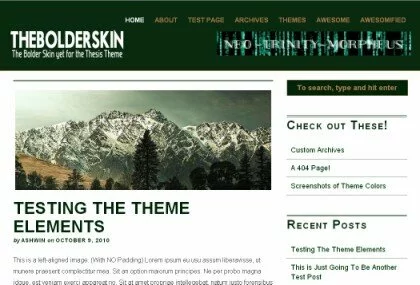 Features 5 Color Themes (Blue, Green, Grey, Black, Red)
Easy Add for your Header Ad Banner Image
Widgetized Footers
Customizable Footer Content from Admin Panel
Custom 404 and Archive Page
Big and Distinct Font Styles
Custom Administration Panel for Skin Options
Lifetime Upgrades and Unlimited License
Live Demo
[wp_eStore_buy_now:product_id:1:end]
Skin Details
Author: Ashwin
Price: $25 – includes Lifetime upgrades and Unlimited Usage
Skin Version: 1.0
Required Thesis Theme Version: 1.7 and above
If you don't have Thesis, click here to buy now
I am happy to introduce the The Bolder Skin for the Thesis Theme. This skin is so special to me – I have done many Thesis Theme Customizations, but this is my first Professional Skin for Sale.
I have made this Skin Simple, but yet Clean and Powerful. Once installed, you can choose between the 5 Color Themes that come with this skin, using the Skin Administration Panel. You can see the screen captures of each of the Color themes here.
Further, the Footer is completely Widgetized and you can Add/Remove/Modify content, from the WordPress Administration Panel. Also, the Footer Text can be customized using the Skin Administration Panel.
I have also redone the 404 Page and the Archive Page provided by Thesis Theme, for better Content and SEO. So you never need to worry about them, anymore.
With the Purchase, you also get a detailed Installation and Usage document. So you will never be lost.
Also, the Skin is Priced moderately at $25. But remember, you can use it on Unlimited Sites and get Lifetime Upgrades.
Again to remind you, here are the Features of this Skin:
Features 5 Color Themes (Blue, Green, Grey, Black, Red)
Easy Add for your Header Ad Banner Image
Widgetized Footers
Customizable Footer Content from Admin Panel
Custom 404 and Archive Page
Big and Distinct Font Styles
Custom Administration Panel for Skin Options
Lifetime Upgrades and Unlimited License
If you have any questions or need some support, feel free to contact me and I will get back to you. Also, I am available for Installation and Further Customization of the Skin, at reasonable costs.
[wp_eStore_buy_now:product_id:1:end]Live Demo