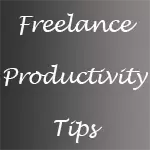 Being a Solo Freelancer is tough, as he/she is solely responsible for the success/failure of the Business.  Everyone of us know it and I am not going to repeat it here.
What I am going to tell you are some proven and essential productivity tips, that can take your Freelancing Career on to the fast track.

Break down Tasks into 'Atomic' Activities
If you are not using a To-Do list, then you should send me an e-mail and tell me how you keep your Business going!
Many of us use To-Do lists.  But what we miss out is to identify the 'Atomic' Activities, among our tasks.
By 'Atomic' Activity – I mean any activity that has a definite Start and Finish and completes to achieve exactly One Objective
An example of 'Atomic' Activity will be – to Setup WordPress 2.9.2 on the Customer Site and make sure it's working.
Break down all your Tasks into 'Atomic' Activities, add them to your To-Do List (possible as sub-tasks) and Check one-by-one as you are done with them. You'll feel the Power of Joy that it gives (and also the hidden benefit of improvement in Productivity)
Maintain a Library of Repetitive Tasks
Do you Write the same piece of PHP Code, for every Client Project that you do?
Do you Design the Footer same way for most of your Clients?
Then it's time to maintain a Library of all the Repetitive Tasks – be it the Code or Copywriting Text.  You'll immediately notice a jump in your productivity.  Guaranteed!
Start using a CRM Tool
I have spent hours digging through my E-Mails and the Documents, for information on my Clients – may be it for some Communication or a Prospective Business.  Much of this time can be saved, if a good CRM is in place.
You don't have to spend thousands setting up a Commercial CRM tool for your Business.  If you are freelancing and have a good number of clients – then Highrise or Batchbook will be a good fit, at affordable cost.
Learn the Art of Outsourcing
As a Technology Freelancer, I have the urge to do all the Technical Work for my Business – myself.  Be it the Blog Design, Maintenance, Upgrade or New Sites – I tend to do it myself.
But as you go on doing Big Stuff, you should seriously learn the Art of Outsourcing.  There are Good Programmers around who can develop a complete PHP Website for you, at costs as low as $500, than you spending about 40+ hours on this task.
I don't advise you to start Outsourcing everything.  But understand that it is an option and use it wherever applicable. Selective Outsourcing can improve your Productivity and give you more time to concentrate on "High Value" stuff.
P.S.: I recently received an E-Mail from Yaro about an Outsourcing Course – http://www.massoutsource.com/  You can try it out if interested but I don't recommend it myself
Use Social Media as a Tool; Not a Habit
I don't have to explain this.  Use Social Media just as a Tool.  Don't make it a Habit, to spend 3+ hours everyday on Twitter.
A Simple Technique – Allot 1 or 2 Fixed Times during the day and Limit your Social Media Activities during that time.  Never get into Social Media out of this window.  Simple!
Just start practicing these Simple Productivity Tips and I am sure this would Improve your Business (and make you feel happy). Know of other tips – take a couple of minutes to let me know. Thanks!