Kerala is a state very close to my heart. Whenever I think of it, my mind is filled with tranquility. The presence of greenery all around takes one to a different world and it is a place that can refresh your life, for sure.  I traveled to Wayanad twice – once in early 2010 and again in the month of December.  This travelogue can help you plan a trip to the Enchanting Wayanad.
Wayanad is a district in Northern Kerala, that borders with the state of Karnataka. This district is well known for its forests, mountain ranges and tea plantations. Kalpetta is the district headquarters and it is located at a distance of 80 KMS from Calicut and about 250 KMS from Bangalore.

From Bangalore and elsewhere
If you are starting from Bangalore, the best way to reach Wayanad is by roads. Even better is a self drive. Here is the best route to take:
Bangalore – Mysore (130 KMS) – Gundalpet (180 KMS) – Sulthan Bathery (240 KMS) – Kalpetta (275 KMS)
The stretch after Gundalpet passes through the northern part of the Bandipur Forest, where you can spot a lot of Elephants and Deers and occasional wildlife.  You will be driving for about 30 KMS in the hush silence of the forest, just accompanied by the nature and the occasional traffic onward.  I am sure you'll love this experience, if you are driving on your own.  Make sure to follow the Forest Rules for your welfare: No Parking, No Speeding, No Picnic, No unnecessary Honking
Other ways to reach Wayanad are:
Take a Train from your Origin to Kozhikode (Calicut)
Kozhikode also has an Airport.  So you can also choose to fly!
Take a Car from Kozhikode to Kalpetta/Sulthan Bathery – about 2-3 Hours Drive
Staying in Wayanad
Wayanad is a district with two major towns – Kalpetta (district headquarters) and Sulthan Bathery. You can choose to stay at any one place.  Kalpetta is closer to Kozhikode and also to the important tourist attractions, but Sulthan Bathery is not far behind.

I stayed in Kalpetta both the times I have been to Wayanad and liked it.  Here are the places I tried and you may like it – but please note these Hotels are located in the town, so you may not expect the "silence" you may need.
Green Mount Cottage, Kalpetta – Economical Homestay with Good food and Parking Facilities.  You can also check my review in TripAdvisor!
Haritagiri Hotel – A typical Hotel but very clean and economical
Also consider the Vythri Resort, which is about 15 KMS away from Kalpetta towards Kozhikode.  Though the cost is on the higher side I have been told a lot about its quality, awesome location and facilities.  But it always runs full during the peak seasons and you may to make an advance reservation.
For other staying options, you can refer to this page.
Places to See and Things to Do
There are two top things you can do in Wayanad:
Peacefully enjoy the Tranquility, Rejuvenate your mind and body with Ayurvedic Spas
Get more adventurous and Trek through the Hills
I chose to be peaceful and less adventurous, but you can have your choice.
Wayanad is not a traditional hill station, which means you may not expect very cold temperatures.  However, the weather through the year (including Summers) is pleasant and the months of June-August can receive a lot of rains. But Summer sometime can get very humid.
Months of October – March are a good time to Visit Wayanad, when there is a lot less rains and humidity.
Here are my picks to see in Wayanad: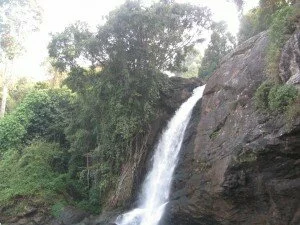 Soochipara Waterfalls is a must see.  It is about 10-15 KMS from Kalpetta and you will have to walk down about 2 KMS from the Parking place to reach the falls.  But it's worth the walk.  You can take a dip in the water, if you wish to – but beware of the slippery rocks and sometimes, the crowd.  There is its counterpart, the Meenmutty Waterfalls but it involves a lot of trek through rough routes – I better suggest to avoid it, if you are not the adventurous kind.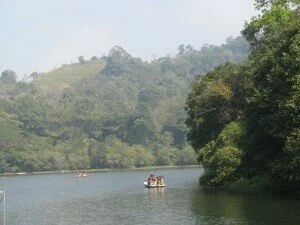 Pookote Lake is a small but nice lake situated close to Kalpetta and Vythiri.  The water was clean and you can enjoy a nice ride on the Boat.  Try avoiding the Lake during Weekends, as it can attract a lot of crowd depending on the time of the year.  But otherwise, it is a good place to visit.  Also don't miss to spend sometime shopping for the Teas, Spices and Condiments in a lot of shops that ornate the way to this Lake.  We got a few items and we loved using them.  You may want to give a try!
Muthanga Wildlife Sanctuary is situated in between Kalpetta and Sulthan Bathery.  It is on the way to Bangalore, so you may want to keep it for the end, when you are driving down back home.  But please be aware this is not a Zoo and you will have to employ a Safari Jeep to take you into the forest.  Also note these Jeeps operate in timings like 7-10 AM and 2-5 PM (please check before you plan).  So you can't do much, if you reach there in the middle of a day.  Plan suitably to avoid any disappointments.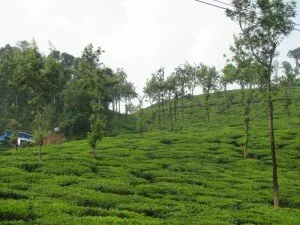 Chembra Peak is another you may want to try.  This is the highest point on the Wayanad district and it also features a lake that is never known to dry up.  Though you may need to trek to reach the actual peak, the drive up to this point can be enchanting with a lot of Tea estates giving a treat to your eyes.  So even if you don't plan to trek, make sure to go to Meppady (where this peak is located) and enjoy the greenery all around.
Other places of interest include Edakkal Caves that is historic importance with a lot of pre-historic carvings and a few Jain Temples around if you are religiously inclined.  Also, the Banasura Dam and Pakshipathalam Bird Sanctuary can be interesting, but I have never been personally to these places.  You can refer to this page for a complete list of places to visit in Wayanad.
Ideal duration to plan for a Trip to Wayanad will be between 3-5 Days.  A weekend may not suffice to see all the places and relax, as most of the time will be spent traveling.
Other Tips
If you are driving to Wayanad from Bangalore, please be aware you will have to drive through the Bandipur forest for about 30 KMS.  If you have never driven through forest ranges, here are my 2 cents:
Carry a lot of food and water.  You will hardly find any shops through a stretch of 50 KMS between Gundalpet and Sulthan Bathery
Never picnic in the Forest for having food or photography.  If you spot some interesting wildlife – slow down, take pictures from within your vehicle but don't try to get down
Forest roads are usually pitted with frequent speed breakers.  Even if not, never try to over speed as you may harm the animals (or sometimes yourself).  Maintain a speed range of 30-50 KMS when driving through the forest
Don't panic if you spot some Wildlife in the middle of a road.  Be calm, close the windows and wait for it to move away.  Never ever HONK!
Make sure you have sufficient fuel to cross the Forest stretch before your enter it.  Gundalpet and Sulthan Bathery must be your pit stops – which are about 60 KMS away.  So you don't have any gas stations in this stretch!
Feel free to contact me via Comments on this post, for any tips or advice for your Trip to Wayanad.  I will be more than happy to help.
Also if you like this article, please share your thoughts with me.  Even otherwise, I would love to know what can be improved to make it better.