Thesis theme provides an option to display only post excerpts in the home page – but the problem I found was it shows very little content that might not entice the reader.  Also the post header images were gone from the home page.
Then I found a very neat option available with Thesis to control the home page post excerpt content.  You can choose to display whatever you want in the Home Page and let the rest go in to the Post Page.  I know many of you may be already using it, but it is just to the benefit for newbies like me.
1.  Disable the Post Excerpt Display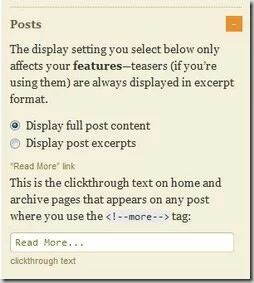 Thesis provides you an option to display only excerpts in the Home Page.  You can navigate to Admin –> Appearance –> Thesis Options and expand the Posts under the Display Options section.
Since this option doesn't allow you to control the content displayed and also sometimes the hides the Post Header Image, we disable it for our purpose.
You can also customize the clickthrough text. This decides the Text that will be displayed on the Home Page, for the user to click and get on to the post page.
To keep it simple, I have made it "Read More…", but you can customize it based on the needs.

2.  Inject into your Posts
Once you are done writing the post, decide on the contents you want to show in the Home Page.  Once decided, go to the HTML Editor in the WordPress Post Edit and insert the following after the contents to be shown on the Home Page.
Make sure there are no spaces between these 3 entities –
Following is an example, where I have used it in one of my posts.
That's all about it! Now check out this particular post on your Home page and you will find only the content before more tag shows up.  To read the rest, the user has to click on the link and navigate to the Post page.
Now you have greater control on what to display on the excerpts in the Home Page.  Also you can write your posts more effectively, to make the users click on the link and read more!!
Let me know through Comments if you like this tip.  As always, share the post with the options below to help more people like you.