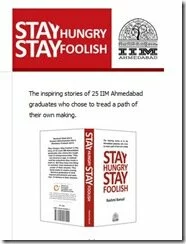 This Weekend, I did a Book shopping after a long time.  Unfortunately, I could not find the book I was looking for.  But I bought this book and loving it so far!
Stay Hungry Stay Foolish is a simple book, about extraordinary personalities and their achievements.  The book is a mini-biography of 25 IIM-A graduates who made it big – by taking the Entrepreneurial route.
These outstanding folks are grouped under 3 categories – The Believers, The Opportunists and The Alternate Vision
You can read some excerpts from the book here.  If you are an early stage Entrepreneur or aspiring to become one, this book is a must read as it increases your motivation level – multi fold.  This book is definitely a grab for Rs.125, which is just awesome! Go get it and have fun!
No related posts.