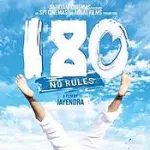 Clean and pleasing Cinematography.  Strong emphasis (or reliance) on Emotions.  Lack of a strong Storyline.  Cool performance by the Hero of the Movie (Siddharth).  This sums up the movie 180 (Nootriyenbadhu).
The first half of the movie revolves around the puzzling Siddharth, whose background and details are kept hidden.  The second half reveals the puzzle, but it lacks the strength that is anticipated.  The storyline is very commonplace but the Director Jayendra has tried to add visual treats and glamour to the story, by some excellent cinematography and the choice of locations in the USA.

What it Has?
Siddharth makes the character Ajay (AJ) lively and fits the role perfectly.  Priya Anand (Renu) who plays the role of his wife is also a right match for Siddharth and stands out with her attractive smile, lively actions and non-embarassing glamour.
Nithya Menon (Vidya) who plays the role of a Journalist resembles a doll and does exactly what is told of her (I presume).  Any dynamism in her acting is conspicuous by its absence.
Mouli (SVS Murthy) and Geetha (Jayam) does their job in the movie but their characters have no real significance in the complete story plot.
One big positive the Movie delivers is the emotions and the disturbed state of mind, that often accompanies the gloom of sickness and disease.  Siddharth deserves an applause!
What is Lacks?
Storyline is not very strong.  Things become predictable once they are clear after the first half of the movie.
Songs are good but they lack the stickiness in to your mind.
Conclusion
Overall 180 is a good effort by the Director and the crew, but things could have been done a little better.